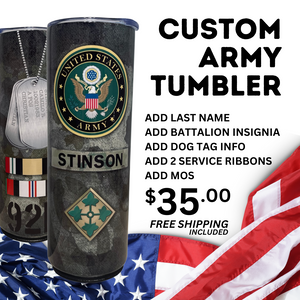 Introducing our exclusive custom-made 20oz tumbler, a tribute to honor the valor and sacrifice of our American soldiers. This meticulously crafted tumbler is a timeless embodiment of their dedication and service, designed to commemorate their legacy in a truly personal and meaningful way.

At the heart of this tumbler lies the Last Name of the soldier, boldly etched in a classic font that symbolizes strength and pride. This personalized touch serves as a poignant reminder of the individual who selflessly serves our nation.

Embracing the tradition and camaraderie of military service, the tumbler showcases the Battalion Insignia, a distinguished emblem that represents unity and commitment. Every glance at the tumbler brings to mind the sense of belonging to a proud and honorable group of comrades.

The Dog Tag Information is a heartfelt detail that adds a personal dimension to this tribute. A QR code links to a digital profile, ensuring that the soldier's story and legacy are preserved for generations to come.

Two Service Ribbons grace the tumbler, a visual representation of the soldier's dedication and achievements. Each ribbon encapsulates a chapter of their journey, reminding us of the sacrifices they've made and the courage they've displayed.

Completing this tribute is the Military MOS (Military Occupational Specialty), etched as a badge of expertise and commitment. This detail speaks volumes about the soldier's skills, reflecting their unwavering dedication to their duty.

As a token of our gratitude, we proudly offer FREE shipping for all our Military Tumblers. We understand the importance of honoring our soldiers and ensuring that their legacy lives on, and we're committed to delivering these exceptional tributes to your doorstep without any additional cost.

This custom-made 20oz tumbler is more than just a vessel; it's a vessel of remembrance, a vessel of honor, and a vessel of gratitude. Each sip from this tumbler is a salute to the brave men and women who serve our nation, a reminder that their sacrifices are never forgotten. Experience the power of this tribute firsthand, and let it serve as a heartfelt symbol of your appreciation for our American soldiers.